Creio que este título merece um maior desenvolvimento. Fica aqui apenas a introdução com base em referências visuais.  A relação entre identidade comum, força colectiva e poder representados na arte.
FLOOR 1997-2000, Do Ho Suh
Produzida pelo artista sul-coreano Do Ho Suh, a instalação "Floor 1997-2000" apresenta um piso transparente apoiado nos braços de mais de 180 mil bonequinhos de plástico. Exibida atualmente na Lehman Maupin Gallery, em Nova York, a obra faz parte de uma mostra internacional que reúne o trabalho de artistas contemporâneos de todas as partes do mundo, como Teresita Fernández, Ashley Bickerton e Lee Bui.
ALWAYS SHAMELESS, Eugenio Merino, 2013
UNIX Gallery is pleased to announce "Always Shameless" an exhibition of new work by Eugenio Merino. The exhibition opens amidst the artist's ongoing legal battles to defend freedom of speech in Spain after being sued over his controversial sculptures depicting dictator Francisco Franco (1892-1975).

"Always Shameless" is the culmination of a project Merino began in 2011 with Always Franco, a life sized sculpture of uniformed Spanish dictator Francisco Franco preserved in a Coca Cola refrigerator.

Despite the legal setbacks, the artist has continued his series of sculptures of political figures for the exhibition. The title of the show "Always Shameless" is a play on the 1993 Coca Cola slogan "Always". Merging the political nature of the artist's sculptures with the branding of a universally recognized product brings these ultimately dark and poignant works into the more accessible forum of popular culture.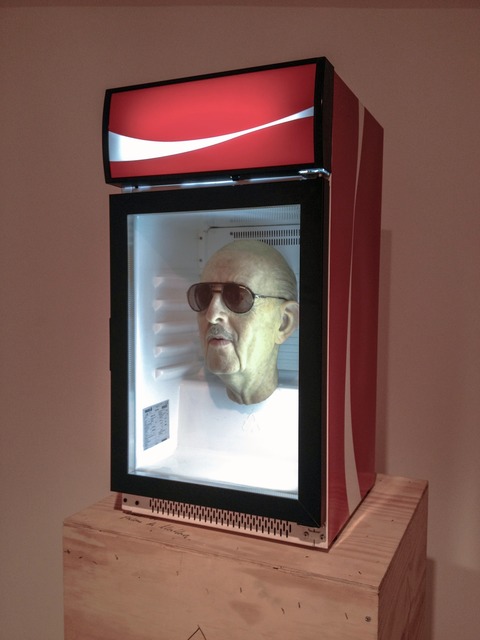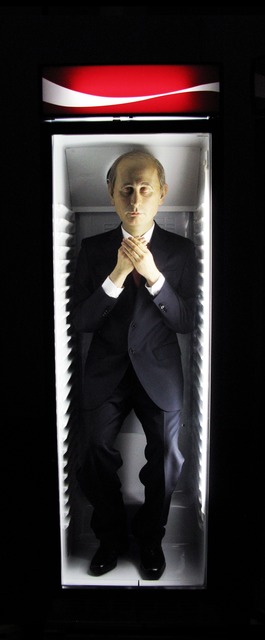 Egomaniac – Kim Jong Un, 2014, UNIX Gallery
THEY HATE US FOR OUR FREEDOM, Claire Fontaine
Claire Fontaine is a "ready-made artist," exemplifying an empty, standardized identity produced by contemporary capitalism. The title of her exhibition in The Front Room is They Hate Us for Our Freedom and includes a new sculpture, a wall text made with the burnt remains of lit matches, and a poster of Jackson and Dave, Dick Cheney's two dogs. "They hate us for our freedom" is a seminal sentence of George Bush's speech after September 11 and states an ideological and economical distance with the eastern world supposed to justify the wars to come. Claire Fontaine's exhibition raises the question of the meaning of freedom in liberal societies, and discretely shows the violence and the lack of independence that comes from the simple fact of being governed.